Who Is Liable for a Slip and Fall Accident in Bad Weather?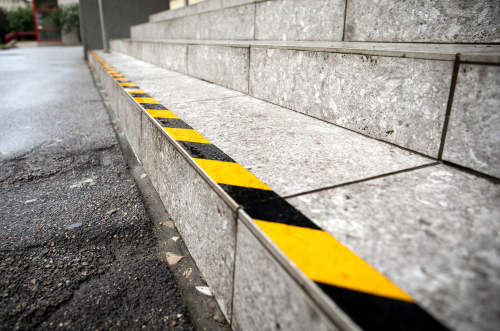 During the late fall and winter, snow and ice from storms can cause slippery conditions. Even heavy rains during spring and summer can create a situation where someone may slip and fall on slick surfaces. When a slip and fall accident occurs due to slippery ground or pavement conditions caused by bad weather, who can be held liable for the injuries and losses suffered by the person who slipped and fell? That's what we answer below. 
Duties of Property Owners in Bad Weather
Property owners generally owe a duty under the law to undertake reasonable efforts to maintain their premises and keep them free of hazards that might injure a lawful visitor on the property. This may include removing snow and ice after a winter storm or clearing out wet leaves or moss after a rainstorm. 
However, single-family residential property owners in New Jersey do not have the same level of duty as commercial property owners. While commercial property owners or landlords of multi-unit residential properties are expected to clear up snow and ice from their property and from abutting public sidewalks and walkways within a reasonable time after a winter storm, single-family homeowners do not have such a duty. However, single-family homeowners do have a duty to remove snow and ice when they create conditions on their property that exacerbate snow and ice hazards.
Commercial property owners also owe a duty to take reasonable steps to keep the interiors of buildings clean during bad weather, including placing down floor mats and other anti-slip mats or materials (particularly at the entrances of buildings) and cleaning up snow, ice, and rainwater that may be tracked in from outside.
Steps to Take after a Slip and Fall Accident in Bad Weather
If you suffered a slip and fall accident during or immediately after bad weather, you should remember to take the following steps to help protect your legal rights and options for later pursuing a slip and fall claim:
Take photos of the scene of your fall, including photographing the surrounding area, whatever hazard may have caused you to slip (such as a puddle of water or patch of ice), and the weather and lighting conditions at the time of the accident. Also, make a note of any surveillance cameras that may have recorded the area and your fall.
Report your fall to the property owner or business management. If the property owner or management drafts an accident or incident report, ask for a copy.
Seek medical attention as soon as you can after your fall to get checked for any injuries you may have sustained. Make sure to follow the treatment instructions that your doctors give you.
Keep copies of medical bills and other records of expenses that you incur due to your injuries. Also, collect copies of your pay stubs or income statements if you take time off work to treat and rehab your injuries.
Finally, see a slip and fall accident attorney as soon as possible to discuss the details of the accident and to learn more about your legal rights and options for pursuing financial compensation.
Contact a Scotch Plains Personal Injury Lawyer to Discuss Your Slip and Fall Accident Case in New Jersey
Did you or a loved one sustain serious injuries due to a slip and fall accident in New Jersey? Don't let the medical bills pile up while you wait for the negligent party or their insurance company to do the right thing. Right now, you need an aggressive personal injury attorney on your side, fighting to get you the compensation you need, want, and deserve. The skilled attorneys at Bramnick, Rodriguez, Grabas, Arnold & Mangan, LLC represent clients injured because of slip and fall accidents in Edison, Woodbridge, Old Bridge, Piscataway, and throughout New Jersey. Call (908) 325-5571 or fill out our online contact form to schedule a free consultation about your case. We have an office conveniently located at 1827 E. 2nd St., Scotch Plains, NJ 07076, as well as offices in Westfield, Newark, East Brunswick, Clifton, Cherry Hill, and Elizabeth.
The articles on this blog are for informative purposes only and are no substitute for legal advice or an attorney-client relationship. If you are seeking legal advice, please contact our law firm directly.