What to Do If You Slip and Fall in a Grocery Store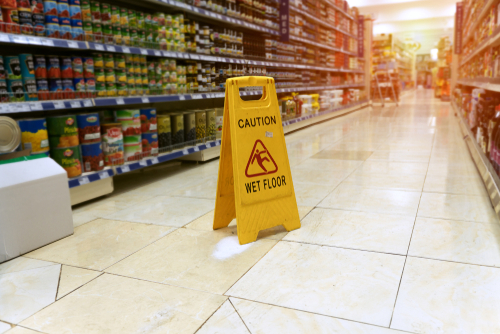 Slip and fall accidents in grocery stores represent one of the most common examples of a premises liability accident, which include accident injury claims arising from a property owner's failure to keep visitors to their premises safe from dangerous or defective conditions of the property. 
Grocery store slips and falls are so common because we all go to the store on a frequent basis. Unfortunately, grocery stores are filled with plenty of potential slipping hazards, such as liquid products that can spill, leaks from refrigerated or frozen displays, and mopping or waxing of slick tile floors. But if you are involved in a slip and fall accident in a grocery store, what steps should you take to protect your legal rights and options?
Grocery Store Liability for "Open and Obvious" Hazards
Many grocery store slip and fall cases revolve around whether the hazard that caused the fall was "open and obvious." First, did the slip and fall accident occur in a part of the store where customers are allowed to be or are expected to be? For example, if a customer slips in a back stockroom after walking past an "employees only" sign, the customer may not be entitled to recover compensation from their fall.
Second, was the hazard one that the store owner and its employees could have and should have noticed? If you slipped on a spilled product in an aisle, the grocery store may have liability since store employees should be regularly checking aisles for spills or other hazards. However, you may also need to show that whatever caused the slip and fall was there long enough that the store's employees had a reasonable opportunity to discover and fix it. If another customer causes a spill and then you walk by a minute or two later and slip on the spill, the grocery store may have a valid argument that it had no opportunity to protect you from slipping on the spill.
Finally, when a slipping hazard is "open and obvious," the grocery store may try to argue that because the hazard was so obvious, you bear at least some of the fault for your fall since you should have tried to avoid the hazard.
Steps to Take after You've Had a Slip and Fall Accident in a Grocery Store
If you have suffered a slip and fall in a grocery store, steps you should take include:
Notifying a store employee of your fall as soon as possible. If you have suffered any serious injuries, call 911 or have store employees do so for you.
If possible, try to take photos of the accident scene with your cell phone. In particular, photograph whatever caused you to slip and fall.
Insist that the store manager put together an accident or incident report. If the manager asks you to provide a statement, keep your statement brief and to the point. Don't guess or embellish details that you are not sure of. If possible, ask for a copy of this report.
See a doctor to get checked out for any injuries you sustained in the accident.
Finally, speak to a slip and fall accident lawyer to go over your legal rights and options.
Contact a Scotch Plains Personal Injury Lawyer to Discuss Your Slip and Fall Accident Case in New Jersey
Did you or a loved one sustain serious injuries due to a slip and fall accident in New Jersey? Don't let the medical bills pile up while you wait for the negligent party or their insurance company to do the right thing. Right now, you need an aggressive personal injury attorney on your side, fighting to get you the compensation you need, want, and deserve. The skilled attorneys at Bramnick, Rodriguez, Grabas, Arnold & Mangan, LLC represent clients injured because of slip and fall accidents in Edison, Woodbridge, Old Bridge, Piscataway, and throughout New Jersey. Call (908) 325-5571 or fill out our online contact form to schedule a free consultation about your case. We have an office conveniently located at 1827 E. 2nd St., Scotch Plains, NJ 07076, as well as offices in Westfield, Newark, East Brunswick, Clifton, Cherry Hill, and Elizabeth.
The articles on this blog are for informative purposes only and are no substitute for legal advice or an attorney-client relationship. If you are seeking legal advice, please contact our law firm directly.