What is a Public Defender?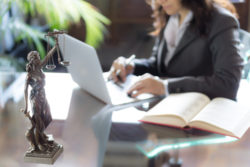 The U.S. Constitution and the New Jersey state constitution protect an accused person's right to legal counsel at a number of steps in the criminal investigation and trial process, from interrogations by police officers to the trial itself. In order to ensure that people have access to the help of a lawyer even when they have no money or other resources, the public defender systems exist.
The role of the public defender is to be the defense attorney for people who are charged with a crime. Defense attorneys, whether public defenders or criminal defense lawyers who work in their own law firms, play an essential role in the trial process. They ensure that police and prosecutors follow the rules at every step, instead of taking "shortcuts" that violate an accused person's rights.
Ideally, every defense attorney will spend time getting to know their client, thoroughly investigating their case, and mounting a vigorous defense against the charges. Unfortunately, for public defenders, this ideal must give way to a harsher reality. Because they must take every case the court assigns, most public defender offices are overbooked, leading to attorneys who are overworked and who cannot give every case the attention it deserves. Many public defender offices also lack the resources to thoroughly investigate cases.
By contrast, criminal defense attorneys in private practice have more control over their own workload. They can prevent themselves from becoming too busy to attend to each client's particular needs. They can also control their caseload to ensure the investigators they work with have the time and resources they need to gather all the relevant information on your behalf. The investment in your own criminal defense attorney can be well worthwhile.
While public defenders play an essential role in the criminal justice system, they are not always the ideal choice for an individual seeking strong, personalized legal representation after being charged with a crime. Don't hesitate to talk to experienced New Jersey criminal defense lawyer from Bramnick, Rodriguez, Grabas, Arnold & Mangan, LLC who can devote ample time and resources to your case. Contact us to schedule your free initial consultation. We offer direct access to our attorneys 24 hours a day, just call our office at (908) 322-7000 or fill out our convenient online contact form to reach us.
The articles on this blog are for informative purposes only and are no substitute for legal advice or an attorney/client relationship. If you are seeking legal advice, please contact our law firm directly.