Can I Get in Trouble for Violating a Restraining Order?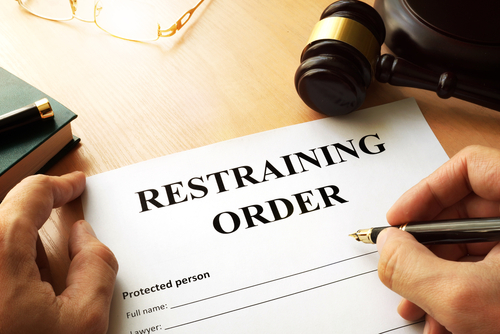 If you are accused of violating a restraining order that has been taken out against you in New Jersey, you should be aware that the penalties can be particularly severe, often including jail or prison time. In New Jersey, simply violating the terms of a restraining order is itself considered a criminal offense that can lead to prosecution and a sentence if convicted. Depending on what you did to violate your restraining order, you can be further charged with a misdemeanor (also called a disorderly persons offense) or a felony (also called an indictable offense). If you are subject to the requirements of a restraining order, you need to educate yourself on the possible consequences for violating your order and understand what kinds of conduct may constitute a violation and lead to criminal prosecution.
Potential Criminal Offenses for Violating a Restraining Order
At a minimum, if you violate a restraining order against you, you can be charged with criminal contempt under NJ Rev. Stat. s. 2C-25-30. You can also be found guilty of a fourth-degree crime under s. 2C-29-9 for purposely or knowingly violating a restraining order under New Jersey's Prevention of Domestic Violence Act, or any similar act from another state, when your violation also constitutes another criminal offense.
In many cases, a person violates a restraining order by committing a completely separate criminal offense that could result in criminal charges even if the person wasn't subject to a restraining order. Some of these offenses include:

Homicide
Lewdness
Terroristic threats
Kidnapping
Sexual assault
Criminal restraint
False imprisonment
Criminal sexual contact
Criminal mischief
Burglary
Criminal trespass
Harassment
Stalking
Criminal coercion
Robbery
Committing these or other criminal offenses involving risk of death or bodily injury are sufficient under New Jersey law to warrant the imposition of a restraining order in the first place.
Consequences for a Restraining Order Violation
A conviction for criminal contempt and/or violation of a restraining order will lead to a jail sentence of not less than 30 days.

If your violation constituted a separate criminal offense, the state may also choose to charge you for that offense, as well. These criminal offenses carry a wide variety of potential sentences, depending on the severity of the offense, including:

Petty disorderly persons offense: Up to 30 days in jail and up to $500 fine
Disorderly persons offense: Up to six months in jail and up to $1,000 fine
Fourth-degree crime: Up to 18 months in prison
Third-degree crime: Three to five years in prison
Second-degree crime: Five to ten years in prison
First-degree crime: 10 to 20 years in prison
Violating a restraining order by committing a criminal offense such as harassment will be charged as a petty disorderly offense resulting in possible jail time in fines, while more serious offenses that can violate a restraining order, such as assault (charged as a third-degree crime) robbery (charged as a second-degree crime) or homicide (charged as a first-degree crime), can lead to a prison sentence that can last years or even decades.
Contact an Experienced Scotch Plains Criminal Defense Lawyer About Your Restraining Order Violation Charges in New Jersey
Were you arrested or charged with violating a restraining order in New Jersey? The consequences of a conviction could be severe, leaving you with a permanent criminal record and possibly even sending you to jail. That is why you need to speak with a qualified criminal defense attorney as soon as possible about your case. The attorneys at Bramnick, Rodriguez, Grabas, Arnold & Mangan, LLC have successfully represented clients charged with violating a restraining order in Union, Plainfield, East Orange, Irvington, and throughout New Jersey. Call (908) 325-5571 or fill out the online contact form to schedule a consultation with a member of our legal team. We have an office conveniently located at 1827 East 2nd Street, Scotch Plains, NJ 07076, as well as offices located in Westfield, Newark, East Brunswick, Clifton, Cherry Hill, and Elizabeth.

The articles on this blog are for informative purposes only and are no substitute for legal advice or an attorney-client relationship. If you are seeking legal advice, please contact our law firm directly.