What Evidence Do I Need to File a Slip and Fall Claim in NJ?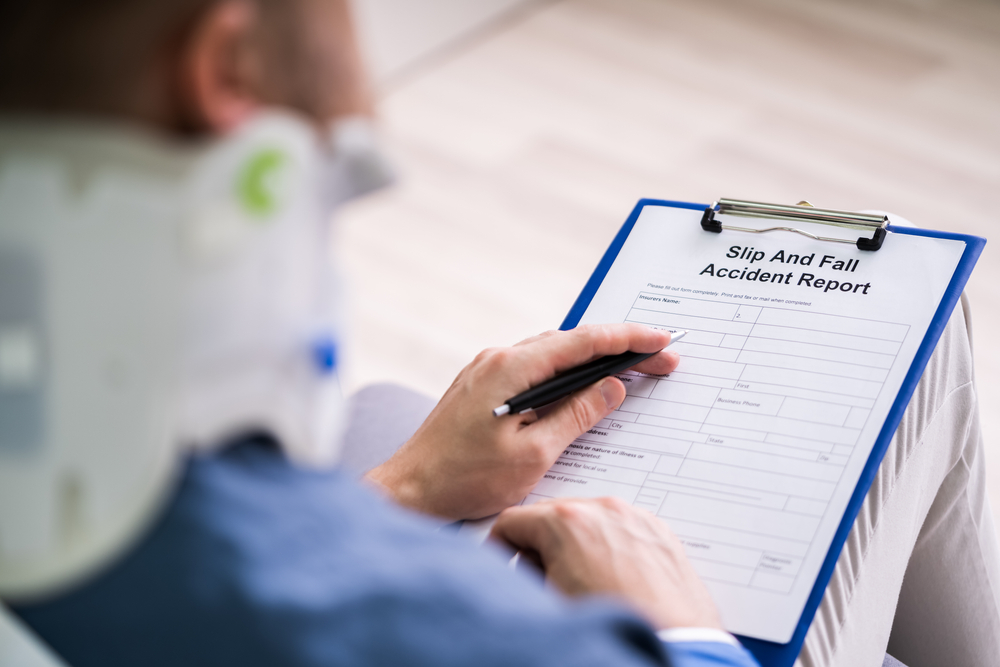 Slipping and falling is one of the most common types of accidents. Slip and fall accidents can occur from slippery floors or loose floorboards. While some slip and fall accidents may lead to a few minor aches and pains, others can lead to expensive medical care needs and an extensive amount of time off from work.
If you're in the second group, you may decide to file a slip and fall claim against the responsible party to help recoup some of your costs.
What is a Slip and Fall Claim?
A slip and fall claim is a type of premises liability claim, which falls under the umbrella of personal injury. A slip and fall claim essentially seeks compensation from the responsible person. It requires that you demonstrate the following:
Duty of care: The responsible person must have had a legal duty of care for your safety and wellbeing.
Breach of duty: The person must have behaved in a way that breached that duty of care, such as negligence.
Causation: The person's behaviors must have been the cause of the slip and fall accident.
Damages: To file a slip and fall claim in New Jersey, there must be actual damages that can be compensated.
When you file a slip and fall claim, you're essentially attempting to prove each of these four elements. This requires that you collect evidence to demonstrate each one.
Slip and Fall Claim Evidence Examples
You'll need certain types of evidence to prove a slip and fall claim. Some examples of evidence may include:
Photographs or Video Evidence
Photographs and video evidence are always a good way to prove a slip and fall case. However, it can be difficult to collect this type of evidence. If you slip and fall in a public place, for example, it's not uncommon for the employees to clean up the mess and repair the dangerous condition right after to prevent others from also being injured.
Witness Statements
Having witnesses who were there when the injury occurred can also be a good way to prove the details of the accident. Witnesses can describe the dangerous situation and the events that led up to the accident. Witnesses can be difficult to track down later, so swapping contact information with anyone nearby is always a good idea.
Accident Report
Some businesses may file an accident report. Having a copy of that accident report can be helpful to your case.
Expert Witness
Sometimes, having an expert witness can also add value to your case. An expert witness can speak to things like how the dangerous situation should have been improved, or they may attest to how your slip and fall injuries will impact your ability to earn a living or a similar income to what you currently have.
Collecting all this evidence may seem overwhelming, especially as you are dealing with recovery from a slip and fall accident. Working with a personal injury lawyer can help you collect all the important evidence you need for your injury case while allowing you to focus on your recovery instead.
Contact an Elizabeth Personal Injury Lawyer to Discuss Your Slip and Fall Case in New Jersey
Did you or a loved one sustain serious injuries due to a slip and fall in New Jersey? Don't let the medical bills pile up while you wait for the negligent party or their insurance company to do the right thing. Right now, you need an aggressive personal injury attorney on your side, fighting to get you the compensation you need, want, and deserve. The skilled attorneys at Bramnick, Rodriguez, Grabas, Arnold & Mangan, LLC represent clients injured because of slip and fall in Elizabeth, Union, Plainfield, Newark, and throughout New Jersey. Call (908) 325-5571 or fill out our online contact form to schedule a free consultation about your case. We have an office conveniently located at 1827 E 2nd St, Scotch Plains, NJ 07076, as well as offices in Westfield, Newark, East Brunswick, Clifton, Cherry Hill, and Elizabeth, NJ.
The articles on this blog are for informative purposes only and are no substitute for legal advice or an attorney-client relationship. If you are seeking legal advice, please contact our law firm directly.