Types of Damages You May Be Entitled to After a Truck Accident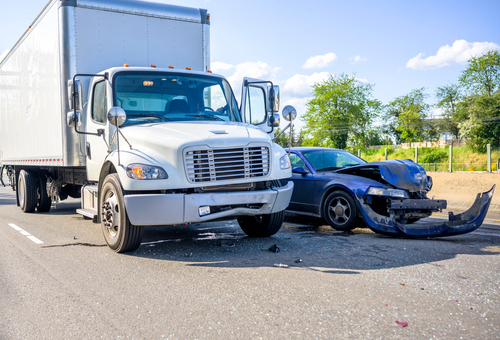 If you are injured in an accident caused by a tractor-trailer or other commercial truck, you may wonder what compensation you may be entitled to for your injuries and losses. Compensation in truck accident claims falls into one of three main categories: economic damages, non-economic damages, and punitive damages.
Economic Damages
Economic damages include the specific financial expenses that an accident victim incurs. Economic damages can usually be specifically calculated or reasonably estimated by referring to bills, invoices, receipts, pay stubs, and income statements. Economic damages commonly recovered in truck accident claims include:
Costs of medical treatment
Home health care or other long-term care expenses
Lost wages from work missed while recovering from injuries
Lost future earnings and lost employment benefits when injuries result in permanent disabilities
Vehicle damage or other personal property damage
Non-Economic Damages
In contrast to economic damages, non-economic damages represent compensation for intangible, personal losses that an accident victim suffers. While economic damages are usually based on financial figures, non-economic damages are instead usually based on a more subjective evaluation of the harm that an accident victim has suffered. Non-economic damages can provide compensation for:
Physical pain and suffering
Emotional and mental distress and trauma
Reduced life expectancy
Lost quality of life, which may result from physical scarring or disfigurement that causes embarrassment or humiliation, or physical disabilities that interfere with daily living
Punitive Damages
Unlike economic damages and non-economic damages, punitive damages do not compensate accident victims for any loss that they suffered. Instead, they represent a financial award to the victim intended to punish the liable party for intentional, wanton, or reckless conduct. Punitive damages are usually only awarded when an accident is caused by conduct that is especially egregious or shocking. Thus, punitive damages are only rarely awarded in truck accident cases. 
Who Can Be Held Liable for a Truck Accident?
Unlike other kinds of motor vehicle accidents, liability for a truck accident can rest with other parties besides a driver involved in the crash. Parties that may have liability for injuries caused by a truck crash include:
The truck driver.
The trucking company, which can be held liable for the driver's negligence if it employed the driver, or liable for its own negligence in hiring, training, or supervising the driver, or negligence in maintaining the truck if the accident is caused by a mechanical failure triggered by inadequate maintenance.
The truck's owner, if different from the truck driver or trucking company.
The freight company, which may have liability when an accident is caused by an unsafe load, such as a cargo load that exceeds the truck's capacity, an unbalanced load, or an unsecured load that can shift during travel, all of which can cause a driver to lose control of their vehicle.
The truck's mechanic, which may be held liable when an accident results from improperly-performed maintenance on the truck or trailer.
The truck's manufacturer or a part manufacturer, which might be held liable when an accident is caused by a design or manufacturing defect in the truck.
Contact a Scotch Plains Personal Injury Lawyer to Discuss Your Truck Accident Case in New Jersey
Did you or a loved one sustain serious injuries due to a truck accident in New Jersey? Don't let the medical bills pile up while you wait for the negligent party or their insurance company to do the right thing. Right now, you need an aggressive personal injury attorney on your side, fighting to get you the compensation you need, want, and deserve. The skilled attorneys at Bramnick, Rodriguez, Grabas, Arnold & Mangan, LLC represent clients injured because of truck accidents in Piscataway, New Brunswick, Perth Amboy, Paterson, and throughout New Jersey. Call (908) 325-5571 or fill out our online contact form to schedule a consultation about your case. We have an office conveniently located at 1827 E. 2nd St., Scotch Plains, NJ 07076, as well as offices in Westfield, Newark, East Brunswick, Clifton, Cherry Hill, and Elizabeth.
The articles on this blog are for informative purposes only and are no substitute for legal advice or an attorney-client relationship. If you are seeking legal advice, please contact our law firm directly.