Steps for Getting a Restraining Order in NJ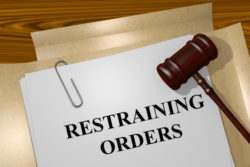 It is never easy to fall victim to something like domestic violence. You might have become involved with someone you trusted and loved, only to find out that they are not who you believed they were.
The United States Department of Justice website defines domestic violence as a "pattern of abusive behavior in any relationship that is used by one partner to gain or maintain power and control over another intimate partner." Domestic violence comes in many forms and can be emotional, physical, sexual, economic, or even psychological.
Protecting Yourself Against Domestic Violence in New Jersey
Being that you have the right to feel safe in your own home and your own relationship, what can you do to ensure your safety in the event of domestic violence?
One route to take is to acquire a restraining order against your abuser. It is not too difficult of a process — just one that not many people are fully aware of.
Here is a quick outline of the steps you can take to file a restraining order in NJ:
Pick up forms at courthouse – The first step is to acquire the necessary documents to file a request for a restraining order. You will need a valid form of identification, and it also helps to have information about your abuser.
Fill out forms – It is important to take care when filling out the forms. If you have any questions, you should turn to available courthouse staff. Make sure to be specific and provide as many details as possible when explaining the abuse.
Attend initial hearing – After being reviewed by a judge, your application may get approved for a temporary restraining order (TRO), leading to a full court hearing where you may be granted a final restraining order (FRO).
Attend full court hearing – Here is where you might be granted a final restraining order, so it is important to be present for the full hearing. You will have the opportunity to testify and share evidence, and your abuser will also have the same opportunity. Note: not attending the full court hearing will result in your temporary restraining order expiring, leaving you to start from the beginning.
Talk to a New Jersey Restraining Order Lawyer About Your Situation
According to statistics from the National Coalition Against Domestic Violence (NCADV), 1 in 3 women and 1 in 4 men have experienced a form of physical violence from an intimate partner. If you fall into either of those percentages, you should look into a restraining order. If you feel you cannot navigate the steps on your own, you can reach out to an experienced attorney to help you get the protection you need. The domestic violence attorneys at Bramnick, Rodriguez, Grabas, Arnold & Mangan, LLC have experience on both sides of a restraining order, making us the ideal choice here in New Jersey. Call 877-423-4878 for a free consultation today.
The articles on this blog are for informative purposes only and are no substitute for legal advice or an attorney-client relationship. If you are seeking legal advice, please contact our law firm directly.