How Social Media Can Impact Your Personal Injury Case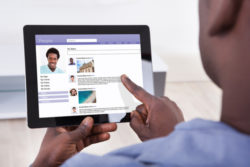 Social media, including personal blogs, Facebook, Twitter, LinkedIn, Instagram, and others, can impact your personal injury case. The bottom line is that injured people can hurt their cases by posting comments, images, or videos on social media. If you're injured and you're filing a claim against a defendant for your injury, don't post.
Doing so can destroy an otherwise strong case you have against the negligent party. The defendant's lawyers and insurers will look for information about you on social media. They will use any evidence to build a case against you.
NJ Lawyers Who Represent Clients in Personal Injury Cases Warn About Social Media Posts and the Effect They May Have on Your Case
Refrain from posting anything online about yourself, including your injuries or other matters related to the case. Don't give the defendant's counsel anything it could use against you.
Even if you mark your social media page private on Instagram or Facebook, realize the Internet isn't private. Perhaps others can view your social media comments and images.
For instance, perhaps you use a picture of yourself at the gym as your Facebook profile image. It's an image a friend took several years ago. Now, let's say you were seriously injured last year in a car accident. You aren't going to the gym now. Unfortunately, the defendant's lawyers can access your Facebook profile picture. He or she will demand access to your Facebook, Instagram, Twitter, and other accounts. Your privacy will be invaded.
Tell Us About Your New Jersey Personal Injury Matter, Not Your Friends on Social Media
Realize that information on your social media accounts can create problems for your lawsuit. Even if you don't imagine the information could harm your case, don't post. It's best to avoid using social media for the duration of your case.
In New Jersey and throughout most of the nation, the defense will have access to your social media accounts. It may use the information to contradict the claims made in your lawsuit. This means if you posted something "private" to your account, or you messaged someone, the court may grant discovery to the defense. Know that once posted, Internet content is forever. Even if you delete the information, it is retrievable. And, if you post deleterious content to your case, you shouldn't destroy it. In legal terms, this is spoliation. You and your attorneys can be penalized for it.
In conclusion, don't post anything on social media about yourself, your case, or your thoughts and feelings at this difficult time. Take care concerning your online activities. Unfortunately, comments, images, and videos you post do great harm to your case.
We Offer a Free Initial Consultation – Call (908) 322-7000
If you or someone you care about has been seriously injured because of another party's negligence, contact Bramnick Law at 877.423.4878 or fill out our online contact form for an initial case evaluation.
The articles on this blog are for informative purposes only and are no substitute for legal advice or an attorney/client relationship. If you are seeking legal advice, please contact our law firm directly.