Questions to Ask your Doctor After an Accident in New Jersey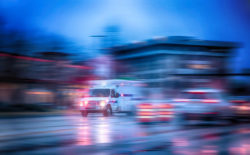 After an accident, it is natural to experience shock and confusion about what has happened. It is also normal to not fully grasp the extent of your injuries until the shock of the accident has passed. For this reason, accident victims should always seek out a medical evaluation to rule out the possibility of injuries.
Questions to Ask Your Doctor After Experiencing an Accident in NJ
After being evaluated by emergency medical personnel or your doctor, you need to ask questions to ensure that you fully understand your doctor's prognosis of your injuries. Make sure that you understand the extent of any injuries or medical conditions, the cause of the injury, and any future health concerns that may arise due to the injury. Depending on how severe your injuries are, you may want to ask your doctor about how long you will need to be out of work. You will also want to obtain copies of your medical records, bills, and prescription orders. These documents can be used as evidence in the event that you decide to file a lawsuit after the accident. You will also want to photograph your injuries to establish a documentary record.
If injured in accident, make sure to be direct when it comes to speaking with your doctor. Important questions for your doctor include what your injuries mean for your ability to work, what future health concerns you should be aware of, and, above all, how your injuries were caused. Having a written note from your doctor stating that you need to take time off from work can help when seeking damages for missed work and/or reduced earning capacity. Additionally, be sure to schedule a follow-up appointment at your doctor's recommendation, as some symptoms can take time to manifest.
Contact the New Jersey Personal Injury Attorneys at Bramnick Law
If you decide to pursue compensation for your losses in court, then it will likely be in your best interests to hire a personal injury attorney. Bramnick Law has a main office located at 1827 E 2nd St, Scotch Plains, NJ 07076. The firm has six other convenient locations throughout the state, including Elizabeth, Newark, Westfield, East Brunswick, Cherry Hill, and Clifton. Our NJ personal injury attorneys can be reached at any of our office locations, by telephone at (908) 325-5571, or electronically through our online contact form.
The articles on this blog are for informative purposes only and are no substitute for legal advice or an attorney-client relationship. If you are seeking legal advice, please contact our law firm directly.