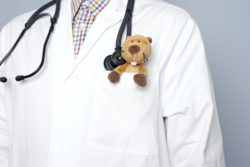 The American Academy of Pediatrics (AAP) estimates that 33 percent of pediatricians, or one in every three, will face a malpractice lawsuit at some point in their careers. While not all of these lawsuits mean the pediatrician was the one at fault, their prevalence underscores the fact that a pediatrician can make mistakes that cause harm, just like any other doctor.
When your child's doctor provides care that falls below the standard of care, serious harm can result. While no parent wants to contemplate the fact that the help you sought for your child ended up injuring them, consulting a lawyer about pediatric malpractice can help you understand your options and choose the best path forward.
Common types of pediatrician malpractice claims include:
Misdiagnosis or Failure to Diagnose
The majority of medical malpractice cases against pediatricians focus on the misdiagnosis or failure to diagnose two types of serious infections: meningitis and appendicitis. When the wrong diagnosis is given, the doctor may attempt to treat the child for a condition he or she does not have, all the while failing to treat the condition the child does have. Serious harm can result either from the improper treatment given or from the right treatment being withheld.
Medication Errors
Medication errors can happen in any medical office, including pediatrics. Giving a child the wrong type of medication, prescribing the wrong dose, or giving a medication to which the child is allergic can all have severe consequences.
Failure to Test or Misinterpretation of Test Results
Often, a misdiagnosis or medication error is linked to a failure either to test for certain conditions or to accurately interpret the test results. Children often have symptoms that can be linked to a number of different conditions. When a doctor leaps to conclusions without gathering data in the form of testing, serious harm can result if those conclusions are wrong.
If your child has been injured and you suspect a pediatrician's negligence or substandard care is to blame, don't hesitate to contact an experienced New Jersey pediatric malpractice lawyer. Your attorney can help you understand your child's legal rights and choose the option that provides the best chance of a brighter future for your child. To schedule your initial consultation contact Bramnick, Rodriguez, Grabas, Arnold & Mangan, LLC. We offer direct access to our attorneys 24 hours a day, just call our office at (908) 322-7000 or fill out our convenient online contact form to reach us.
The articles on this blog are for informative purposes only and are no substitute for legal advice or an attorney/client relationship. If you are seeking legal advice, please contact our law firm directly.