Liability of Holiday Party Hosts After a Drunk Driving Accident in NJ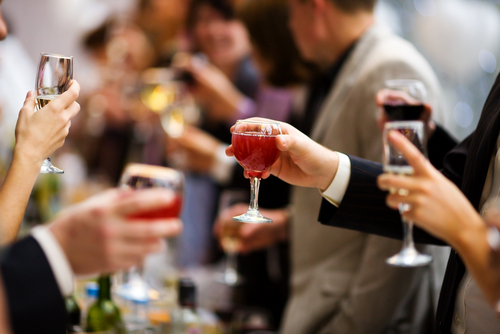 We all know that we are not supposed to get behind the wheel after having consumed alcoholic beverages. When someone does drive a car while intoxicated by alcohol and causes an accident, they can be held liable to compensate the victims of the accident for the personal injuries and property damage those victims have incurred.
However, when a driver is intoxicated from alcohol that they were served at someone's house or a private party, the law in New Jersey may also allow drunk driving accident victims to hold the social or party host liable for the victims' injuries and losses. 
Social Host Liability
In New Jersey, both statutory and case law impose social host liability. Like the dram shop rule that imposes liability on bars and restaurants for serving alcohol to a minor under the age of 21 or a visibly intoxicated customer, New Jersey's social host liability law also imposes the same duty on private persons not to serve alcohol to guests in their home or other private space, when the guest is under the age of 21 or is visibly intoxicated when the host knows or should reasonably foresee that the guest intends to drive while intoxicated. Although New Jersey's social host law has expressly imposed liability on hosts 21 and older, the New Jersey Supreme Court recently expanded this duty to adults between the ages of 18 and 21 who furnish alcohol to a visibly intoxicated under-21 guest.
How to Prove Social Host Liability
Social host liability requires a victim of a drunk driving accident to prove that the host knew or reasonably should have known that their guest was under the age of 21 or was visibly intoxicated and that their guest intended to drive while intoxicated. This can be a high evidentiary burden for a drunk driving accident victim, especially in an accident case caused by a drunk driver aged 21 or older. For adult drunk drivers, the accident victim will need to find some evidence that the drunk driver appeared visibly intoxicated to their social host and that the host continued to furnish them with alcohol while they appeared visibly intoxicated. 
In addition, an accident victim will need to prove that the host knew or reasonably should have known that their guest intended to drive while intoxicated. Social host liability cases have been lost where the evidence showed that the social host and guest planned for the guest to sleep over for the night, but the guest snuck out later after the host had gone to sleep.
A drunk driving accident victim who proves that a host served alcohol to a minor or visibly intoxicated guest who later caused a drunk driving accident may be entitled to recover compensation for:
Vehicle damage or the value of a vehicle totaled in the accident.
Costs of medical treatment, physical rehabilitation, and mental health therapy
Loss of income after missing time from work while recovering from the accident
Loss of future earnings and employment benefits if you are permanently disabled from work
Loss of enjoyment and quality of life
Physical pain and emotional distress
Contact a Scotch Plains Personal Injury Lawyer to Discuss Your Drunk Driving Accident Case in New Jersey
Did you or a loved one sustain serious injuries due to a drunk driving accident in New Jersey? Don't let the medical bills pile up while you wait for the negligent party or their insurance company to do the right thing. Right now, you need an aggressive personal injury attorney on your side, fighting to get you the compensation you need, want, and deserve. The skilled attorneys at Bramnick, Rodriguez, Grabas, Arnold & Mangan, LLC represent clients injured because of drunk driving accidents in Edison, Woodbridge, Old Bridge, Piscataway, and throughout New Jersey. Call (908) 325-5571 or fill out our online contact form to schedule a free consultation about your case. We have an office conveniently located at 1827 E. 2nd St., Scotch Plains, NJ 07076, as well as offices in Westfield, Newark, East Brunswick, Clifton, Cherry Hill, and Elizabeth.
The articles on this blog are for informative purposes only and are no substitute for legal advice or an attorney-client relationship. If you are seeking legal advice, please contact our law firm directly.