Jonathan Arnold negotiates a $475,000 settlement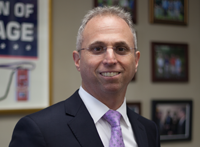 Bramnick, Rodriguez, Grabas, Arnold & Mangan, LLC attorney Jonathan Arnold recently negotiated a $475,000 settlement on a motor vehicle accident case.
The 65 year-old plaintiff was a pedestrian involved in a motor vehicle accident causing her to suffer injuries to her ankle, knee and ribs. Mr. Arnold was able to negotiate a settlement in the amount of $475,000 for the plaintiff's pain and suffering.
Our firm continues to accept referrals and forward referral fees per Rule 1:39-6(d). Always feel free to call our main number at 866-845-5571 or my cell phone at 908-591-9245 seven days a week.
DISCLAIMER: Results may vary depending on your particular facts and legal circumstances.