How to Join a Class Action Lawsuit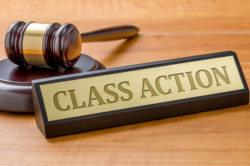 A class action lawsuit is a lawsuit in which a large number of people (known as the "class") who suffered very similar injuries from a single defendant all band together to file a single lawsuit against that defendant. The goal of class actions is to streamline litigation, instead of forcing every injured individual to fight their own case.
Some class action lawsuits in recent years have been extremely successful at holding major corporations and other entities accountable for negligence that resulted in serious harm. If you hear of a class action lawsuit that relates to you in some way, you can take steps to make sure you are counted as a member of the class.
If You Receive a Class Notice
One way many people find out about a class action lawsuit is by receiving a "class notice" in the mail. The notice tells you about the lawsuit and contains information about who is included in the class.
If you receive notice and it indicates you are included in the class, you do not have to do anything else in order to be included in the lawsuit. If the case settles or a verdict against the defendant is reached, you will receive an additional notice letting you know how to claim your part of the settlement or verdict.
If You Do Not Receive Notice
Another way people often find out about class action lawsuits is through advertising or news reports that talk about the class action. If you discover one this way but do not receive a class notice, you may be able to include yourself in the class using the contact information in the ad or news report. You can also contact an experienced personal injury lawyer for more information on how to be added to a class action—or how to begin one if no lawsuit addressing your injuries has been filed.
If you've been injured and you suspect that you're not alone, contact a New Jersey personal injury lawyer with experience handling class action lawsuits from Bramnick, Rodriguez, Grabas, Arnold & Mangan, LLC. Our lawyers can help you join a suit already in progress or can help you gather similarly injured individuals and start a class action if necessary. Contact us to schedule your initial consultation. We offer direct access to our attorneys 24 hours a day, just call our office at (908) 322-7000 or fill out our convenient online contact form to reach us.
The articles on this blog are for informative purposes only and are no substitute for legal advice or an attorney/client relationship. If you are seeking legal advice, please contact our law firm directly.