How to Renew a Green Card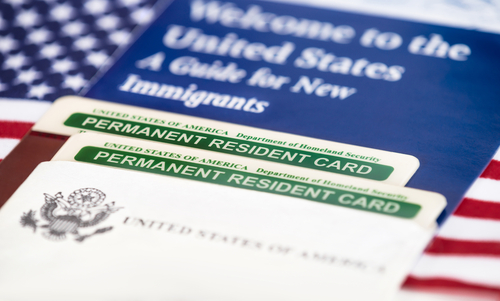 If you are a lawful permanent resident of the United States, you will need to regularly renew your green card to maintain your lawful presence in the country. Renewal of a green card can be accomplished by filling out and filing Form I-90, Application to Replace Permanent Resident Card, with USCIS. 
Renewal Fees
Anyone filing a Form I-90 is typically required to pay filing fees when submitting the form to USCIS. Applicants must pay a total of $540, which includes a $455 application fee and an $85 fee for biometrics. 
Fee Waiver Options
While these fees normally must be paid when submitting an I-90, it may be possible to seek an exception or waiver from the fee. USCIS grants exceptions for paying the application and biometrics fees under very limited circumstances, including if your Form I-90 was rejected for errors on the application that you did not make, or if you never received your green card after it was mailed to you. To seek an exception under this second condition, you will need to establish all of the following criteria:
Your green card was mailed more than 30 days ago
The green card was returned to USCIS as undeliverable
You have not moved from the address listed on your application.
USCIS also grants a waiver from filing fees for certain individuals who have one or more of the following circumstances:
The applicant or a qualified member of their household is receiving a means-tested benefit, or a government benefit or service for which eligibility and/or the benefit amount are based on individual income and financial resources (e.g. Medicaid, Supplemental Security Income).
The applicant's household income is at or below 150 percent of the poverty level
The applicant has a documented financial hardship, such as emergency medical expenses
How to Prepare the Renewal Application
Applicants have one of three options for preparing their Form I-90. First, an applicant can choose to fill out and submit the Form I-90 themselves by downloading the form from the USCIS website. However, filling out the Form I-90 yourself is usually considered unadvisable due to the risk of making errors or leaving out information. Mistakes or missing information can lead to a delay in approval or, in more serious cases, to having the application denied outright.
An applicant may choose to utilize online services that provide step-by-step directions for filling out the Form I-90. Some online services have functionality that will alert applicants to potential issues that may create problems with approval. Some online services also offer guarantees that applications filled out through their service will be approved by USCIS.
Finally, an applicant may choose to retain an immigration lawyer to help them with filling our Form I-90. Hiring a lawyer is the most comprehensive solution to renewing a green card, as only an attorney can provide legal advice, including how to handle the renewal process if you have a criminal history or have violated immigration rules. Most immigration attorneys will charge several hundred dollars to complete a Form I-90, although costs could be higher if you have a more complicated case.
Contact an Experienced Scotch Plains Immigration Lawyer About Your Green Card Case in New Jersey
Understanding your rights and options under U.S. immigration law can be incredibly complex. That is why you need to speak with a qualified immigration attorney as soon as possible about your case. The attorneys at Bramnick, Rodriguez, Grabas, Arnold & Mangan, LLC have successfully represented clients in New Brunswick, Perth Amboy, Paterson, Passaic, and throughout New Jersey. Call (908) 325-5571 or fill out the online contact form to schedule a consultation with a member of our legal team. We have an office conveniently located at 1827 E. 2nd St., Scotch Plains, NJ 07076, as well as offices located in Westfield, Newark, East Brunswick, Clifton, Cherry Hill, and Elizabeth.
The articles on this blog are for informative purposes only and are no substitute for legal advice or an attorney-client relationship. If you are seeking legal advice, please contact our law firm directly.