Can You Get Workers' Compensation If You Work From Home?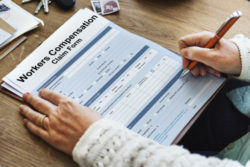 Technically, yes, it is possible to get workers' compensation if you work from home. Although it can be difficult to get since the court will need to be shown a valid reason for providing workers' compensation to someone who is working out of their home.
When is it Possible To Get New Jersey Workers' Compensation if You Work From Home?
Normally, the times you are able to receive workers' compensation while working at home are when your employer "forces" you to work at home, for a variety of reasons. In one example, a woman tripped over her dog while walking to her garage – a place where she kept her employer's materials. While, at first, the claim was denied, it was later reversed and she won the case.
What happened was this: her employer did not have enough room at her location to house this employee or some of the material necessary for the job, which forced the employee to work out of her home. Since she was not supposed to be working at home but had no other option, she was able to receive workers' compensation.
Talk to an Experienced Lawyer About Your Workers' Comp Claim Today
It is not possible to receive workers' compensation, however, if you simply have the choice to go to the office and decide not to one day, and then suddenly get injured. If the choice is yours to work from home, and something happens, the chances of you receiving workers' compensation are low.
There are certainly other rare cases where it is possible to receive workers' compensation when working from home, but your best bet is to find an experienced workers' compensation attorney who will be able to guide you into making the best decision as to whether or not to make a case out of it.
Free Initial Consultation with a Scotch Plains NJ Workers' Comp Attorneys Who Will Help You Get Benefits
At Bramnick Law, we will be able to help you make the right decision for your case, and if applicable, help you fight for your rights. Contact our offices today to schedule a free consultation, and to see whether or not you could be receiving workers' compensation even when you are working at home.
The articles on this blog are for informative purposes only and are no substitute for legal advice or an attorney/client relationship. If you are seeking legal advice, please contact our law firm directly.