Filing an Injury Claim for a Pedestrian Accident in New Jersey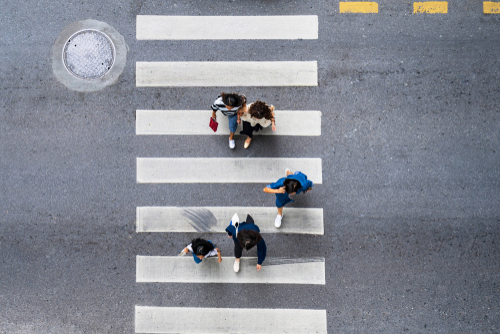 According to statistics from the National Highway Traffic Safety Administration, while the number of pedestrian accidents and fatalities in New Jersey have remained relatively constant over the past couple of years, the numbers of accidents and fatalities are still higher than they should be.
If you were hurt in a pedestrian accident in New Jersey, you should learn more about your legal rights and options and the process for recovering compensation in an injury claim.
Who Can Be Held Liable for a New Jersey Pedestrian Accident?
In most pedestrian accidents, the driver of the vehicle that hits a pedestrian will often be held liable for the accident. This is because most pedestrian accidents are caused by driver negligence or recklessness. However, a pedestrian accident may also be caused due to negligent designed or maintained streets or intersections, in which case some liability for the accident may be placed on the local or state government that maintains that road.
Of course, a pedestrian may also bear some fault for getting into an accident, such as if they try to jaywalk or cross an intersection against a green light in front of oncoming vehicles. New Jersey follows a modified comparative negligence rule, which prohibits an accident victim from recovering compensation for injuries when their share of fault for the accident is greater than the combined fault of all other responsible parties.
Recovering Compensation after a Pedestrian Accident
In a pedestrian accident claim, you may be entitled to recover compensation for losses you suffered in the accident, including for:
Past, ongoing, and future medical expenses
Lost wages and loss of future earning capacity
Pain and suffering
Emotional and mental distress
Scarring, disfigurement, or loss of a body part or body function
Permanent disability interfering with daily living or activities
Hit-and-Run Pedestrian Accidents
Being injured in a hit-and-run pedestrian accident can make it more difficult or complicated to obtain compensation from the at-fault driver. In some cases, the police are ultimately able to track down the responsible driver so that you know who to file your claim for compensation against.
But if the at-fault driver cannot be located despite the best efforts of law enforcement to identify the driver, you may still be able to recover compensation if you have auto insurance of your own. PIP coverage under your auto policy will help pay for medical expenses, and you may be entitled to make a claim for additional compensation if you have uninsured motorist coverage in your policy since an unidentified hit-and-run driver is treated as an uninsured motorist.
What to Do If You've Been Injured in a Pedestrian Accident
If you were hit by a vehicle while walking as a pedestrian, you can take steps to help protect your legal rights and options:
Get the contact information and insurance information of the driver that hit you, along with contact info for any eyewitnesses to the accident.
Take photos of important details of the accident scene, such as skid marks in the road or any debris from the vehicle that hit you, damage to the vehicle, and any visible injuries you suffered.
See a doctor as soon as possible to get examined for any injuries, and remember to follow all treatment instructions you are given.
Set up a consultation with a pedestrian accident lawyer to discuss getting legal representation for your claim against the at-fault driver.
Contact a Scotch Plains Personal Injury Lawyer to Discuss Your Pedestrian Accident Case in New Jersey
Did you or a loved one sustain serious injuries due to a pedestrian accident in New Jersey? Don't let the medical bills pile up while you wait for the negligent party or their insurance company to do the right thing. Right now, you need an aggressive personal injury attorney on your side, fighting to get you the compensation you need, want, and deserve. The skilled attorneys at Bramnick, Rodriguez, Grabas, Arnold & Mangan, LLC represent clients injured because of pedestrian accidents in Union, Plainfield, East Orange, Irvington, and throughout New Jersey. Call (908) 325-5571 or fill out our online contact form to schedule a free consultation about your case. We have an office conveniently located at 1827 E. 2nd St., Scotch Plains, NJ 07076, as well as offices in Westfield, Newark, East Brunswick, Clifton, Cherry Hill, and Elizabeth.
The articles on this blog are for informative purposes only and are no substitute for legal advice or an attorney-client relationship. If you are seeking legal advice, please contact our law firm directly.