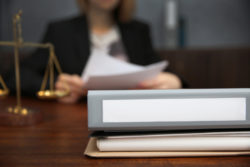 Suffering an injury is always a scary situation, but not knowing the timeline of everything that comes afterward can sometimes make it even more difficult. This is why knowing what to expect and how long it may take is something that can help alleviate some of the stress of these unfortunate events. From getting medical treatment, choosing a lawyer, and being prepared for a trial, the following is a realistic timeline of the procedures you should follow when being involved in a personal injury lawsuit.
First and foremost you should go to a hospital and see a doctor as soon as you can. Often times, individuals are not fully aware of the extent of their injuries, which is why it is essential to get examined by a medical professional immediately. It's imperative to not delay seeking medical attention, even if you think nothing is wrong, as this could negatively impact your trial.
Choosing the Right Attorney For Your Case
Choosing a qualified attorney is the next action you will need to take if you wish to be compensated or receive a claim of any sort to settle the case. While this may be something that seems obvious for larger injuries, it's important to seek counsel for small injuries as well. Injuries of any kind can face negative consequences that can affect both you and your family. Do not underestimate the value in contacting a qualified lawyer for all types of injuries.
Once you have found an attorney, be prepared to provide detailed information regarding the events of your incident. Be mindful to be as accurate and thorough as possible, as this information will be vital for your attorney to fight for the maximum compensation you deserve. Additionally, providing accurate accounts of your accident ensure that your lawyer will not be met with any surprises along the way that could potentially damage your case.
Determining Whether You Have a Case
Your attorney will determine whether or not you have a case based on a thorough review of your medical records and your detailed account of what happened. If it is determined you have a case, the timeline of your lawsuit may be extended depending on your medical diagnosis and whether or not you're still undergoing rehabilitative treatments.
If you have reached the end of your treatment and your attorney feels that they have reached a point of maximum recovery, they may decide to settle your case with an insurance company or another lawyer without ever stepping foot inside a courtroom. It is essential that you reach the maximum recovery point, for the last thing you would want to do is agree to a settlement or go to trial based on certain injuries only to have them get worse during the process, and not be able to use that information in court because the arguments on your status had already started.
What Happens When You File a Lawsuit
If you are not able to settle the case it will then be time to file the lawsuit, which in cases of personal injuries may take one to two years before the trial actually starts. There is a statute of limitations on when these suits must be filed by in order to be heard in a court, so it is imperative to be aware of these timelines.
Once the lawsuit is filed the discovery process begins, which is when each party goes over the other legal team's claim and plan of defense for their respective clients. Both documents and written requests are exchanged and depositions of the witnesses in the case take place. This process can take six months to a year, depending on the intricate details of your lawsuit.
After the discovery process, then mediation and negotiation begin. This is when both attorneys will try and come up with a fair settlement for both parties rather than going to court to let a judge and/or jury decide your fate. If the lawyers cannot do this themselves, they will see a mediator who will attempt to fairly decide the results for them.
How Long Will My Lawsuit Last?
If the case still has to go to trial after mediation, the timeline for your lawsuit will depend on various circumstances. Start dates for trials often get delayed. In some cases, the amount of time spent in the courtroom can vary from a half a day to full, which may extend the time you must wait to get your case resolved.  In the end, it's important to know that although this entire ordeal may take longer than you wish, it's a necessary step in order to receive justice and the compensation you are owed. While there are no guarantees even if you do go to trial, this is your best bet to prove that you were wronged and to get the legal retribution you deserve.
Contact New Jersy Personal Injury Lawyers Today
If you or a loved one has been injured you need a qualified attorney from Bramnick Law who will stand up and fight for you in court. Contact Bramnick Law at 877-423-4878 today to schedule your initial case evaluation today.
The articles on this blog are for informative purposes only and are no substitute for legal advice or an attorney/client relationship. If you are seeking legal advice, please contact our law firm directly.