Being Eligible for Life Pension Benefit Payments from Workers' Comp Due to a Permanent Total Disability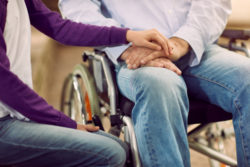 There are few things more unfortunate than becoming permanently disabled as a result of a work-related injury or disease that causes an illness due to your line of work. That being said, it may be of some comfort to know that you may be entitled to disability benefits because of your state's workers' compensation system put in place for situations such as this. The laws surrounding workers' compensation can vary from state to state, but all of them have their own rules on who is able to receive a lifetime pension and what criteria they must meet in order to do so.
This can be different than the factors required to obtain other benefits such as Social Security disability benefits, or private disability benefits. This differs from workers' comp in some states as many times you do not need to prove that you can never work again in order to be able to receive a lifetime workers' compensation benefits, nor do you need to prove that you are totally disabled. Depending on where you live and where the incident occurred you may not be technically totally disabled, but if by the state's laws they consider you incapacitated enough you may still be awarded these disability benefits.
Necessary Steps To Getting Permanent Disability
Typically, when you are first injured on the job to the point that you cannot immediately return to work, you will be provided with temporary total disability payments through workers' compensation. Permanent disability payments will not kick in until your treating medical providers determine that you have reached maximum medical improvement (MMI) — that is, your condition is not expected to improve with any further medical treatment. Once you reach MMI, you will be reevaluated to determine whether you can return to work (and if you can return to work, what kinds of restrictions might you need in your job).
Other examples of criteria that differ by state are the standard of what they consider a total and permanent disability to be. If you lose both your hands, the sight in both of your eyes, suffer a major brain injury or become completely paralyzed, this will make you able to collect these benefits in almost every case. If you end up in a condition like this but the injury does not mean total loss of these functions you may only receive partial disability benefits for an extended amount of time but not permanent even if your injury is considered to be.
Regardless of how severe your condition is it may be almost impossible to be eligible to receive permanent disability until your status is completely stable. In other words, if there are still procedures and/or treatments that you can have that could possibly improve your health, in some cases, you are not considered permanently and totally disabled until all of your other options have been exhausted. To be clear, this does not mean you will never be awarded these benefits it only means all of your avenues of being treated must be completed until you can get a lifetime pension.
If it is deemed that you are truly permanently disabled by a doctor there will be a fixed amount of money that will be paid to you periodically on a fixed timeline. You also may be able to continue to receive certain medical benefits, although depending on your circumstance there should be an expected level of care available to you. The levels and amounts of care and money you will receive will be decided in court, which is why it is extremely important to have a knowledgeable attorney to help guide you through this difficult process.
Lifetime Permanent Disability Payments under Workers' Compensation
As a general rule of thumb, permanent disability payments are only paid over a period of 450 weeks. Permanent disability payments will be weekly payments equal to 70 percent of your average weekly wage for the 26-week period preceding your injury. However, the payments you receive cannot be lower than 20 percent of the statewide average weekly wage as calculated by the state, nor greater than 75 percent of the statewide average weekly wage. These benefits can also be offset if you are also receiving Social Security disability benefits.
In order to be eligible for permanent total disability benefits, you must show that your specific injuries prevent you from returning to any type of gainful employment. This is slightly different from the standards for receiving Social Security disability benefits, which require demonstrating total disability. A worker can also be deemed totally disabled by Social Security, but only partially disabled under workers' compensation laws. In addition, while it is permissible to earn a small amount of income while receiving Social Security disability benefits, a worker receiving permanent total disability benefits cannot work in any capacity whatsoever; any income the worker earns while receiving permanent total disability benefits can give rise to an inference of workers' compensation fraud since the worker has been deemed unable to perform any gainful work.
Although permanent total disability under workers' compensation can arise from any combination of injuries that renders a worker unable to perform gainful employment, the New Jersey workers' compensation law presumes a permanent total disability if the worker has lost (or lost the use of) two or more major members of the body, which are eyes, arms, hands, legs, and feet.
Even though permanent total disability payments are designed to terminate after 450 weeks, you might be able to have permanent total disability payments continue following expiration of the initial 450-week period provided you can demonstrate that you are still unable to engage in any gainful employment. In addition, you are also entitled to have the costs of any future medical treatments required as a result of your work-related injuries or illness covered by workers' compensation, with no copays or deductibles due to the worker. However, a worker will need pre-authorization from the employer or its workers' compensation insurer for any non-emergency treatment for a work-related injury or illness.
Contact a New Brunswick Workers' Compensation Lawyer to Discuss Your New Jersey Workplace Injury Case
A work injury can be devastating, particularly if it prevents you from returning to work for an extended period of time. Although New Jersey Workers' Compensation laws are supposed to provide you with reimbursement for medical expenses and replacement pay for missed time at work, it is not always easy to get the Workers' Comp benefits you deserve. That is why you should speak with a knowledgeable Workers' Compensation lawyer about your situation and get guidance throughout the claims process. The experienced Workers' Compensation attorneys at Bramnick, Rodriguez, Grabas, Arnold & Mangan, LLC represent clients in Perth Amboy, Paterson, Clifton, Passaic, and all across New Jersey. Call (908) 325-5571 or fill out our online contact form today to schedule a free consultation about your work injury case. Our main office is located at 1827 E. 2nd St., Scotch Plains, NJ 07076, and we also have offices in Westfield, Newark, East Brunswick, Clifton, Cherry Hill, and Elizabeth.
The articles on this blog are for informative purposes only and are no substitute for legal advice or an attorney-client relationship. If you are seeking legal advice, please contact our law firm directly.