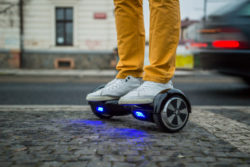 Technological advances never cease to amaze. As time goes on, more and more things once thought impossible become a reality. One of the more recent technological breakthroughs is the hoverboard. Now we know what you might be thinking: "Like that thing Marty McFly rode over water in Back to the Future Part II?" Not quite the same, but pretty close. Today's hoverboards are better described as self-balancing scooters without the handlebars. They remain upright on two wheels and the user can shift weight to determine direction. Sounds pretty neat, right?
Hoverboards quickly gained popularity upon introduction to the marketplace, and what were originally high-priced, carefully constructed products became a mass-produced, lower-priced toy available for purchase. Those lower-quality hoverboards came with a world of trouble.
Hoverboard Fires and Explosions Leading to Serious Injuries
A quick online search of the word "hoverboards" can yield plenty of stories of hoverboard products catching fire while people use them. In most cases, this occurs because the hoverboard comes with a faulty battery. Hoverboards have been reported to catch fire or explode both while charging and while in use.
If you purchased a hoverboard with a faulty battery and were injured due to it exploding or catching fire, you could have a product liability lawsuit on your hands. You should definitely look into finding a qualified personal injury lawyer to discuss your possible case.
But also keep in mind that the dangers of hoverboards don't end at faulty equipment. User error has led to people getting injured while simply walking on the street. A pedestrian out walking to the corner store or to work could be the victim of a collision with a hoverboard user who is not paying attention to what they are doing.
On top of that, users of hoverboards could end up severely injured if they lose control of the self-balancing scooter and fall off. They can hit the pavement or asphalt and sustain a serious injury, especially if they hit their head.
The dangers of hoverboards are real and have been recognized across the US. New Jersey has taken steps to ban hoverboards from trains, buses, and railways. A handful of NJ colleges and universities have also banned the products from being used on campus in order to keep pedestrians safe.
Free Consultation with an Experienced NJ Personal Injury Lawyer About Your Cherry Hill Hoverboard Accident
If you or someone you know has been injured in a hoverboard accident, it is crucial to seek out an experienced personal injury attorney to start building your case. The New Jersey hoverboard accident lawyers at Bramnick, Rodriguez, Grabas, Arnold & Mangan, LLC are well-versed in hoverboard litigation and could be the answer you need. Call 877-423-4878 to set up a free consultation.
The articles on this blog are for informative purposes only and are no substitute for legal advice or an attorney-client relationship. If you are seeking legal advice, please contact our law firm directly.