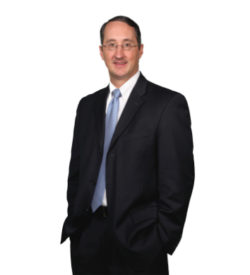 Wade Suthard
Of Council
Location: 7 Broad Street, 2nd Floor, Elizabeth, NJ 07201
Phone: (908) 353-8315
E-mail: E-mail Me
Licensure:
Wade Suthard has been a successful trial lawyer since 1992. He is admitted to practice law in the State of New Jersey and Commonwealth of Pennsylvania, as well as the Federal District Courts of New Jersey and the Eastern District of Pennsylvania.
Honors and Awards:
In 2010, Mr. Suthard was recognized by the Supreme Court of New Jersey as a "Certified Civil Trial Attorney". This recognition is earned by less than 5% of New Jersey Attorneys, and is based on professional accomplishments, peer and judicial recommendations, and a written exam.
Mr. Suthard has also been selected as one of the top 100 trial lawyers from New Jersey by the National Trial Lawyers Association for 2013, 2014, 2015, 2016, 2017 and 2018. Membership in the National Trial Lawyers Association is by invitation only.
Wade has also been named a "Super Lawyer" by New Jersey magazine for 2011, 2012, 2013, 2014, 2015, 2016, 2017 and 2018.
In 2009, Mr. Suthard was inducted into the Million Dollar Advocates Forum for his work on a medical malpractice case involving a severe birth injury. Membership is limited to Attorneys who have acted as principal counsel in a case that has received a verdict, award or settlement in the amount of $1,000,000 or more. Currently, there are approximately 4000 members, which is less than 1% of the attorneys in the United States.
Professional Memberships:
American Association of Justice

Past Chair of the Motor Vehicle Collision, Highway, and Premises Liability Section
Member of the Sole Practitioner & Small Firm Section
Trucking Litigation Group

Executive Board (2014 through 2018)

New Jersey Association for Justice

Board of Governor's (2009 through present)
Co-Chair of the Auto Committee
Co-Chair Corporate Data Collection Committee

American Bar Association
New Jersey Bar Association
Bucks County Pennsylvania Bar Association
Education and Professional Experience:
After receiving his Bachelor of Science in Business Administration degree from Villanova University in 1987 and his Juris Doctor from Widener University School of Law in 1990, Wade began a two-year trial clerkship in the Philadelphia Court of Common Pleas. Upon completion of his Clerkship, he joined the Philadelphia based Klovsky, Kuby, and Harris, where he was responsible for all aspects of serious personal injury litigation, serving as first and second chair in numerous jury trials. In 2000, he formed the New Jersey personal injury firm of Rispoli, Borneo & Suthard, where he concentrated exclusively on third-party personal injury litigation. In 2011, he began his solo practice.
Presentations and Speaking Engagements:
Wade is a sought-after speaker and has served as Co-Chair of numerous seminars on the issues of Personal Injury Law and Trial Evidence. He has been invited to speak to other lawyers and present seminars by the New Jersey Association for Justice, the American Association for Justice, and the National Business Institute. Later this year, Wade is scheduled to speak in Newark, New Jersey on investigating the Wrongful Death Case, and to Co-Chair the Auto Seminar for the New Jersey Association for Justice. In July of 2016, Mr. Suthard was Co-Chair for the Educational Program for the Motor Vehicle Collision, Highway, and Premises Liability Section at the National Convention of the American Association for Justice in Los Angeles. In 2017, he was Co-Chair of the Jazz Fest Seminar for the American Association for Justice in New Orleans.
Representative Cases last 10 years:
$1,000,000 Confidential Settlement of a shoulder dystocia birth injury case
$950,000 settlement of a third party/UIM auto case involving deep vein thrombosis
$500,000 jury verdict on a bulging disc auto case (Middlesex County NJ)
$350,000 settlement on a commercial vehicle accident with serious orthopedic injuries
$250,000 settlement in a negligent security case against an Elizabeth, New Jersey bar
$250,000 jury verdict on an arthroscopic shoulder surgery auto case (Union County NJ)
$187,000 jury verdict on a ruptured bicep tendon slip and fall case (Hudson County NJ)
Personal:
Wade lives in Newtown Pennsylvania with his wife, Susan, and their two daughters, Paige (16) and Corinne (14).